March 21st, 2023
NCREC
News
Real Estate Manual Update
Every 2 to 3 years the Real Estate Manual is revised and updated per the latest law, rule and practice changes.  The newest revision of the Real Estate Manual is now available through an online subscription under the Publications tab on our website.  Or, order a print copy in late April.
Property Check/Fraud Alert Available At Many County Register of Deeds Websites
In North Carolina, 60 county Register of Deeds websites have a property notification alert service where you can enter your information, and be alerted if any documents are recorded regarding your property. Due to increasing instances of deed fraud and fake seller scams, it is highly recommended that you sign up for this free service if available in your county. They are named differently depending on the county, including Fraud Alert, Property Check and Property Notification, but they all serve the same purpose of sending you an email notice of a newly recorded document. For more information about deed fraud and actions to take if you become a victim, read this consumer article on our website.
You are invited!
The monthly Real Estate Commission meetings are always open to the public, and you are invited to attend in person or online via Zoom. The meeting next month is April 19th in Edenton at the Historic 1767 Chowan County Courthouse. A Zoom link will be available at ncrec.gov on the day of the meeting.
March 7th, 2023
NCREC
News
Wire Fraud Conferences
Wire Fraud conferences began last week and will be held across the State this spring and summer.  Since 2015, wire fraud has become increasingly targeted towards real estate transactions resulting in the loss of BILLIONS of dollars.  With growing usage of electronic funds transfers, real estate is targeted because of the large amounts of money exchanged. From due diligence deposits, to earnest money, buyer funds to close, seller proceeds and mortgage payoff funds, there are several opportunities for a scammer to try to intercept money in a transaction. Come and learn about wire fraud schemes, how they are successful, and how to avoid them yourself and/or for your clients.  Read last month's Bulletin article for more details about the conferences.  The next session is 3/13/23 in Raleigh, with several more to come.  Register now for the Raleigh or subsequent conferences!
Illegal Covenants Are Not Enforceable
NCREC recently received a call from a broker about a restrictive covenant in a neighborhood that stated 'No race other than Caucasian.' The seller and broker were concerned about how to address this covenant, as it was recorded to the property in 1955. Since then, there have been many Federal and State Fair Housing laws and rules passed declaring housing discrimination against protected classes illegal. Those protected classes are: race, color, religion, sex (including sexual orientation or gender identity), national origin, familial status (including pregnancy) and disability. If there are covenants that are recorded on a property that are now illegal, these cannot be enforced. A broker should disclose the existence of the covenant if they are aware of it, and the fact that it is legally unenforceable. While there is proposed federal legislation in the works, there has not yet been a law passed that removes such covenants.
You are invited!
The monthly Real Estate Commission meetings are always open to the public, and you are invited to attend in person or online via Zoom. The meeting this month is March 15th here at the Commission building. A Zoom link will be available at ncrec.gov on the day of the meeting.
New Instructor Seminars
Due to high demand, several new instructor seminars were created and added to the schedule.  These seminars will be offered in 2 formats until May: in person every other month, and by zoom. More seminars will be available in July and/or August, after the license renewal period has ended.  If you have an interest in becoming a real estate instructor and meet the requirements, you may register for this course.
Property Manager Concerns
The NCREC sometimes receives calls about private owners managing their own property, and concerns that they are not following Landlord/Tenant Laws.  While the NCREC cannot regulate the actions of a private property owner that does not have a real estate license, owners are still subject to following NC and Federal Laws concerning Fair Housing and Landlord and Tenant responsibilities.  If you have a concern about the actions of an unlicensed property owner managing their own property, you should contact the Attorney General's office for assistance.
You are invited!
The monthly Real Estate Commission meetings are always open to the public, and you are invited to attend in person or online via Zoom.  The meeting next month is March 15th here at the Commission building.  A Zoom link will be available at ncrec.gov on the day of the meeting.
February 7th, 2023
NCREC
News
Tech Survey
Last month's eBulletin included a survey for licensees to provide input about tech needs.  The input was very helpful in developing a plan, topics and resources that NCREC can provide to our licensees in the identified areas of need.  In response to the survey results, there will now be a Tech Corner in the monthly Real Estate Bulletin and in the Update classes specifically dedicated to tech topics.
Wholesaler Warning
We have received calls from unrepresented sellers who were approached by investors or wholesalers who contracted to buy their property.  When the buyer did not complete the closing of the contract on time, the seller assumed the contract had expired and was no longer valid.  This was not necessarily the case. For example, the standard residential contract form provides that "If the Delaying Party fails to complete Settlement and Closing within seven (7) days of the Settlement Date (including any amended Settlement Date agreed to in writing by the parties), then the Delaying Party shall be in breach and the Non-Delaying Party may terminate this Contract". In general, a written termination is best, even if the closing date has passed.
Some investors/buyers/wholesalers will put a lien on the property for their interest in the contract if it is not terminated in writing, even if they did not close by the date indicated.  The investor/buyer/wholesaler then demands that the seller pay a large sum of money to clear the lien before they can sell to a new buyer.  Regardless of the source of the contract, we highly recommend consulting with an attorney to look out for your best interests when termination questions arise.
You are invited!
The monthly Real Estate Commission meetings are always open to the public, and you are invited to attend in person or online via Zoom.  The meeting this month is February 15th here at the Commission building.  A Zoom link will be available at ncrec.gov on the day of the meeting.
January 24th, 2023
NCREC
News
BIC Focus Groups
The NCREC has hosted several BIC focus groups over the past month, and the participation and feedback has been wonderful!  We so appreciate the candid conversations and excellent ideas and will be working diligently to compile all of the information gained, and use it to develop new or updated education/processes/procedures and rules to address the evolving needs of our licensees.
Fake Seller/ Fake Buyer Scam Alert
The NCREC has been receiving an increasing number of calls that indicate scam listings are on the rise. These scammers pose as sellers of vacant land and usually find listing brokers through lead generation sites. See the following link for a recent NCREC article about these scams: https://bulletins.ncrec.gov/fake-seller-fake-buyer-scam-alerts/
You are invited!
The monthly Real Estate Commission meetings are always open to the public, and you are invited to attend in person or online via Zoom.  The January 18th meeting is at the Embassy Suites in Wilmington.  A Zoom link will be available on the website at ncrec.gov on the day of the meeting.
July 22nd, 2022
NCREC
News
The North Carolina Real Estate Commission met at the JB Duke Hotel in Durham, NC July 20-21 as part of its initiative to reach out to real estate licensees across the State. The meeting was led by the Commission's Chairman, Wendell Bullard, a Durham broker specializing in commercial real estate brokerage, land, and residential transactions. Bullard welcomed Durham area brokers, Realtors®, education providers and members of the public to the Commission's monthly business meeting.
Senator Mike Woodard joined the meeting and provided a legislative update to the Commission members, staff, and guests in attendance. Also in attendance were Cindie Burns, incoming president of the Durham Regional Association of Realtors® and the Association's CEO, Shelia Willis.
Along with its other business, the Commission considered a variety of applicants for real estate broker licenses, settlements of complaints involving broker misconduct, and the performance of education providers in connection with real estate courses.
The Commission members thanked Mr. Bullard for his service to the real estate profession throughout the past year. The Real Estate Commission is responsible for licensing and regulating North Carolina real estate brokers in order to protect the public interest in their real estate brokerage transactions.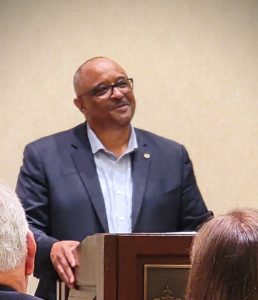 September 4th, 2019
NCREC
News
With hurricane season well underway, a review of the laws governing hurricanes, evacuations, and vacation rentals is appropriate.
( 1) The first and most important thing to remember is that when state or local authorities order a mandatory evacuation of a coastal area, tenants occupying vacation rental properties must comply with the order. Evacuations are ordered to protect human life and health and are not undertaken lightly. Brokers managing vacation rental properties should support state and local authorities by encouraging and facilitating tenant compliance with evacuation orders.
(2) When a vacation tenant complies with an evacuation order, he or she is generally entitled to a refund of a share of the money he or she has paid for the rental (rent, security deposit, taxes, etc.) prorated for each night the evacuation order was in effect.
(3) There is an exception to this rule, however. If the tenant was offered travel insurance that covered the risk of mandatory evacuation, then the landlord has no obligation to refund the tenant's money. To trigger the exception, the cost of the insurance offered cannot exceed 8% of the cost of the vacation rental and the policy cannot exclude the particular storm. It is important to note that some vacation rental insurance companies exclude coverage for storms that have been named by the National Hurricane Center prior to date the insurance was purchased. If a storm is named prior to the purchase of travel insurance and, if the insurance will not cover the tenant for losses or damages resulting from a mandatory evacuation or from damages and losses caused by the named storm, then the tenant is entitled to a refund from the landlord of all monies paid.
(4) If, following the storm and after any mandatory evacuation has been lifted, the landlord or his broker cannot provide a promised rental property to a vacation rental tenant – whether the reason is that the house was significantly damaged or that it is inaccessible due to damage to or closure of roads or ferries – the tenant is entitled to either a refund of his money or the substitution of a reasonably comparable property at the same cost. This refund may come in the form of a paid claim against travel insurance. Tenants and vacation rental managers are encouraged to read and understand the limits of coverage being offered.
(5) Go to readync.org which provides emergency management planning tips including information about current mandatory evacuations.
(6) Go to https://ncdoj.gov/price-gouging-law-in-effect-in-north-carolina-2/ for information about price gouging laws following the declaration of a state of emergency in North Carolina.
February 21st, 2018
NCREC
News
Effective January 1, 2018, as required by the NC state legislature in NCGS § 143-765, all applicants for occupational licenses, including license renewal, must disclose any investigations for employee misclassification.
**NCGS § 143-765 applies to applications for and renewals of all occupational licenses, permits, and certifications, so the certification and disclosure statements will be required during the license renewal process of existing licensees. License renewal occurs annually between May 15 and June 30.  Due to the new requirement, every licensee will be required to complete the renewal process individually.  Brokers-in-Charge will not be able to renew the licenses of affiliated brokers.** 
All North Carolina Real Estate Commission applications — including broker, firm, limited nonresident commercial, and private school licenses, temporary practice permits, and timeshare registrations — have been updated to be in compliance with the new law.
All applicants must certify that they have read and understand a Public Notice Statement from the Employee Classification Section of the State Industrial Commission (http://www.ic.nc.gov/121317ECSPublicNotice.pdf) and must disclose any investigations for employee misclassification.  If an applicant does not provide the certification and disclosure, the NC Real Estate Commission is not permitted to process the application.  Contact information for questions and inquiries is provided on the Public Notice Statement.